Programs available for all ages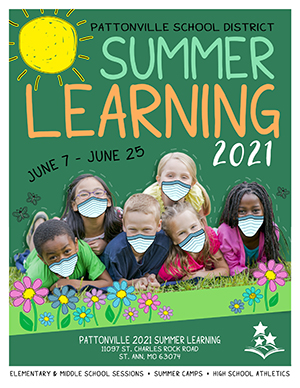 Pattonville will offer a three-week summer school program for children currently in grades kindergarten through eighth grade (K-8) attending a Pattonville school. Families are welcome to sign up for one, two or three weeks of sessions. In addition, Pattonville High School students will continue to be able to take credit advancement or credit recovery courses this summer. Summer activity and athletic camps are also available.
The K-8 sessions and high school credit classes are free, but the activity and summer camps have varying fees. Classes are filled on a first-come basis. Transportation is not provided, however free breakfast and lunch will be provided for K-8 students attending sessions.
K-8 classes are in-person and will run from 8 a.m. to 2:30 p.m., June 7 through 25. Elementary classes will be held at Drummond Elementary School and classes for sixth through eighth grades will be held at Holman Middle School. The registration deadline is April 9 for the K-8 classes.
High school summer classes run from June 3 through June 29 and will be offered only virtually.
K-8 activity camps will be held at Holman Middle School and are half day camps. High school activity camps will be held on the Pattonville High School campus.
Find out more 
K-8 summer learning (K-8 classes and activity camps, high school activity camps)
Summer Learning Brochure: 
http://bit.ly/PSDSummerLearning2021 
Registration links: 
Before and after care:  Child care will be available for K-5 students who have registered and been accepted into the summer school classes at Drummond Elementary. It will be offered on a "per week" basis. Cost will be $45 per week for before-care (6:30 to 8 a.m.) and $50 per week for after-care (2:30 to 5:30 p.m.). The cost for students registered in both before- and after-care will be $70 per week. Child care registration details will be provided to students upon acceptance into the summer school program and will be accepted on a "first come" basis. You must register for each week individually. The child care registration deadline is May 28. Child care registration is available at psdr3.asapconnected.com. 
Pattonville High School summer classes
http://bit.ly/PHSSummerClasses2021
Questions?
Call (314) 213-8250 for more information.