The Pattonville School District cares deeply about the safety and well-being of students, staff and visitors. While schools continue to be among the safest places for students, Pattonville takes seriously its responsibility to maintain a safe and caring environment. Safety planning, preparedness and prevention are embedded in the culture of our schools. Pattonville works closely with area law enforcement, fire, EMS and emergency management to ensure our schools are prepared in the event of an emergency. Each school conducts drills throughout the school year to help students and staff prepare for a range of possibilities, and safety plans are updated annually with the assistance of local first responders. Here's what parents, families and the community need to know and do to help support Pattonville's school safety efforts.
Download a copy of this information in booklet form.
Descargar información en español. 
School closings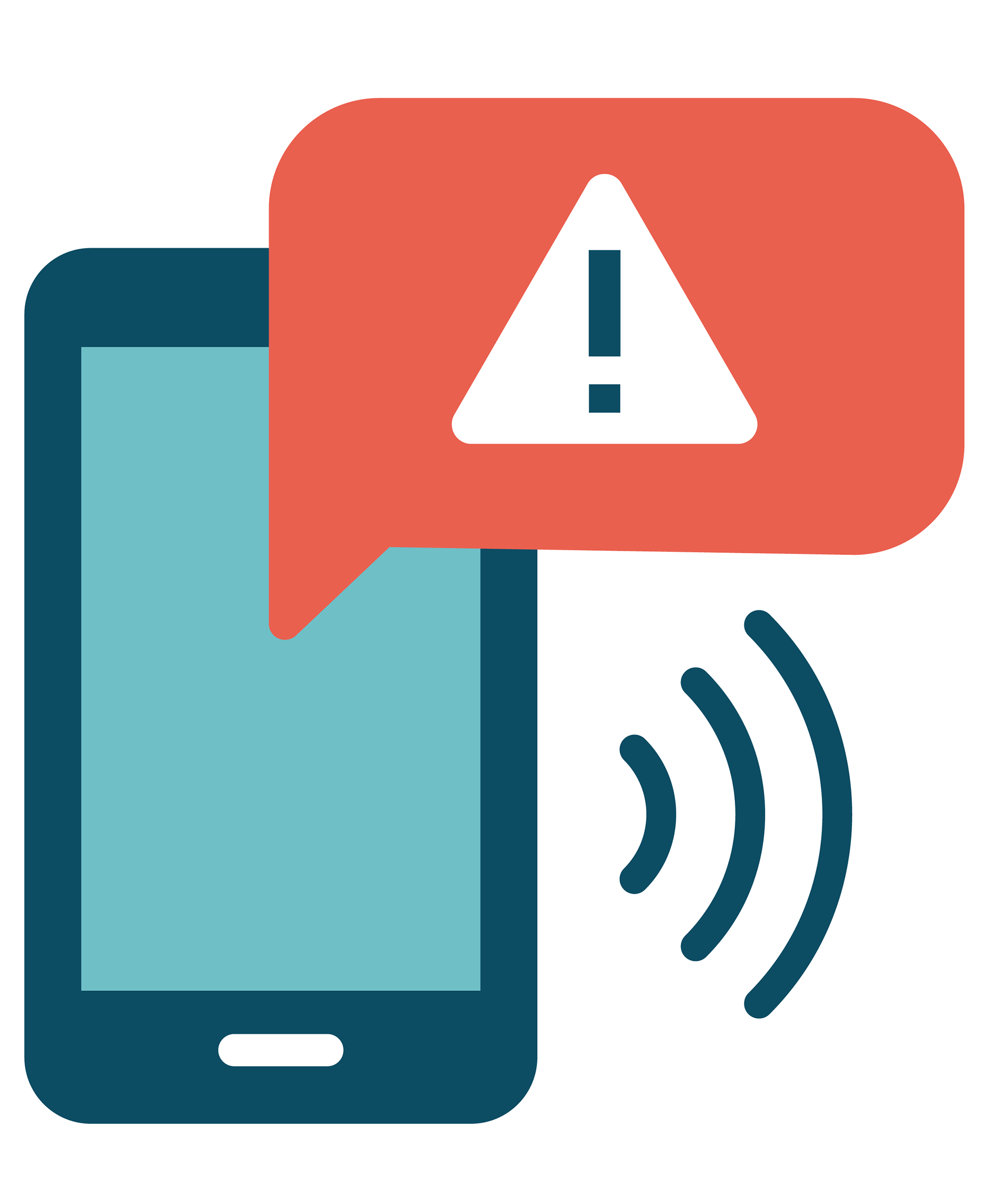 Pattonville schools close only in case of emergency or extremely bad weather. Any decision to close schools due to weather will be announced using Pattonville's automated messaging system (email, texts and/or phone calls). Announcements will also be made on local television stations, the district website and Pattonville's Facebook, Instagram and Twitter accounts. When possible, announcements regarding inclement weather days will be made before 10 p.m. the day before or at approximately 5:30 a.m. the day inclement weather is expected. 
NOTE: If you are a parent/guardian and did not receive a phone call on a day when school is closed due to weather, please contact your child's school office to ensure the district has the correct contact information on file for your family. 
Pattonville may close the district or use a virtual learning  day or a delayed start on inclement weather days. 
On a district closure day, all classes will be canceled and district offices will be closed. An additional school day will be made up at the end of the school year for each district closure date.
During a virtual learning day, in-person classes are canceled, but students will take part in independent learning activities with online teacher support. Students should check their email and/or log into Canvas or Seesaw at the start of the school day to view instructions from their teachers and to find out when their teachers are available for support.
With a delayed start, all Pattonville schools start two hours later than normal (i.e., elementary schools start at 10:55 a.m. instead of 8:55 a.m.) and would end at the normal dismissal time. There will be no before-school care on delayed start days. Normal and delayed start times for Pattonville schools are as follows: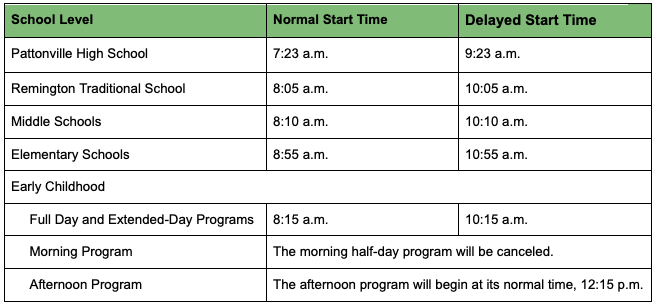 The district may need to utilize an early release in the event of inclement weather later in the school day. In the event of an early release, notification will be sent as soon as release information is available.
Extreme weather
Pattonville closely monitors weather conditions and makes decisions based on the safety of our students. School closures due to extreme weather conditions are rare. In both extreme heat and cold, we may also keep students inside or reduce time outside for recess, PE or other activities based on the temperatures throughout the day.
Cold Weather
Pattonville uses the National Weather Services wind chill chart as a guide when determining whether to close school or reduce outdoor time due to cold temperatures. Any time the temperature or wind chill temperature reaches the point at which exposed skin could experience frostbite, we consider closing school. Keep in mind the wind chill chart is a guideline, not a rule. We encourage families to dress their children warmly and in layers, according to the weather. 
Extreme Heat
Pattonville uses the National Weather Services temperature, heat index and Wet Bulb Globe Thermometer (WBGT) when determining outdoor activities in excessively hot temperatures. The WBGT is a device used to measure heat and humidity levels. Additionally, the Missouri State High School Activities Association (MSHSAA) recommends the use of the WBGT for measuring and determining acceptable heat and humidity levels for outdoor high school practices and contests. At Pattonville High School, the WBGT is monitored 15 minutes before and multiple times during practice by the sports medicine staff to ensure operations within the recommended guidelines. Please ensure your child is well-hydrated before participating in activities and provide them with necessary supplies, such as water bottles, to stay hydrated throughout the day.
See something. Say something.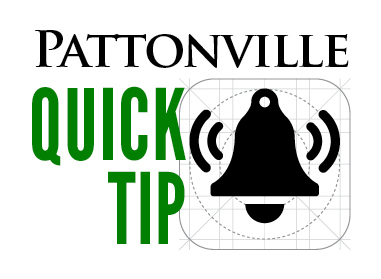 School safety is everyone's responsibility. If you see or hear something concerning that impacts our students or our schools, don't spread it: Report it. Call your child's school or, if it's an emergency, call 911. You can also report tips via Pattonville's QuickTip program.
When reporting something, please be as detailed as possible. All threats are taken seriously. Police are notified and officers and school administrators work together to thoroughly investigate any threat. Anyone who makes a threat - whether real or as a joke - could face criminal charges and students involved will receive consequences as outlined in the district's student behavior guides. 
Safety terms to know
Below are terms Pattonville uses as part of its crisis planning, management and response.
4E

- 4E refers to Pattonville's intruder/active shooter training, as required by state law. The 4E program stands for Educate, Escape, Evade or Engage and was developed by officers from the St. Louis County Police Department. The training provides staff and students with different options on how to respond to active intruder situations and keep students safe. The options are discussed and practiced with students according to the appropriateness of the students' age.

Drill

- Drills are activities to prepare students to act quickly and minimize questions and fears should an emergency take place. Pattonville practices drills for earthquakes, fires, intruders and tornadoes.

Evacuation

- Students and staff depart the school building due to a safety concern and remain at the evacuation site until given the all-clear from first responders. Students may remain on campus, meet at a pre-designated rally point near the school or be relocated to a reunification site, depending on the circumstances. 

Lockdown

-  When a threat is on school grounds or inside of the school, the building will be on full lockdown with students in their classroom, hidden from view, with the door locked and secured from the inside. Students remain in the classroom in this position until the lockdown is lifted or an evacuation is issued. Note: If the option is safe, students and staff may evacuate to a rally point. 

Modified lockdown

- This refers to a lockdown of the exterior building and is used when there is an off-site threat in the surrounding area and not on school property. In this instance, the building perimeter is locked down with instruction carrying on as normal inside (students do not travel outside the building).

Reunification

- This procedure is used when the school is evacuated or closed due to an emergency. A designated location will be established for parents to reunite with their children. The reunification site may be at the school or at an alternative location. During an emergency, the district will share the location of the reunification site as part of its emergency communications as soon as possible. Parents will be instructed on the steps for reuniting with their children at this time.

Reverse evacuation

- A procedure to move students and staff inside a facility when it would be dangerous to remain outside.

Shelter-In-Place

- This is a precautionary measure aimed at keeping students and staff safe while remaining indoors. Situations that may require a school to shelter-in-place include natural disasters, severe weather, accidental or intentional release of hazardous materials or an emergency safety situation in the community. Depending on the circumstances, persons with proper identification may be allowed to enter and exit the building. Students may be kept beyond normal school hours, with or without HVAC. Food and drinks will be made available if students are kept over an extended time.
What to do BEFORE a crisis occurs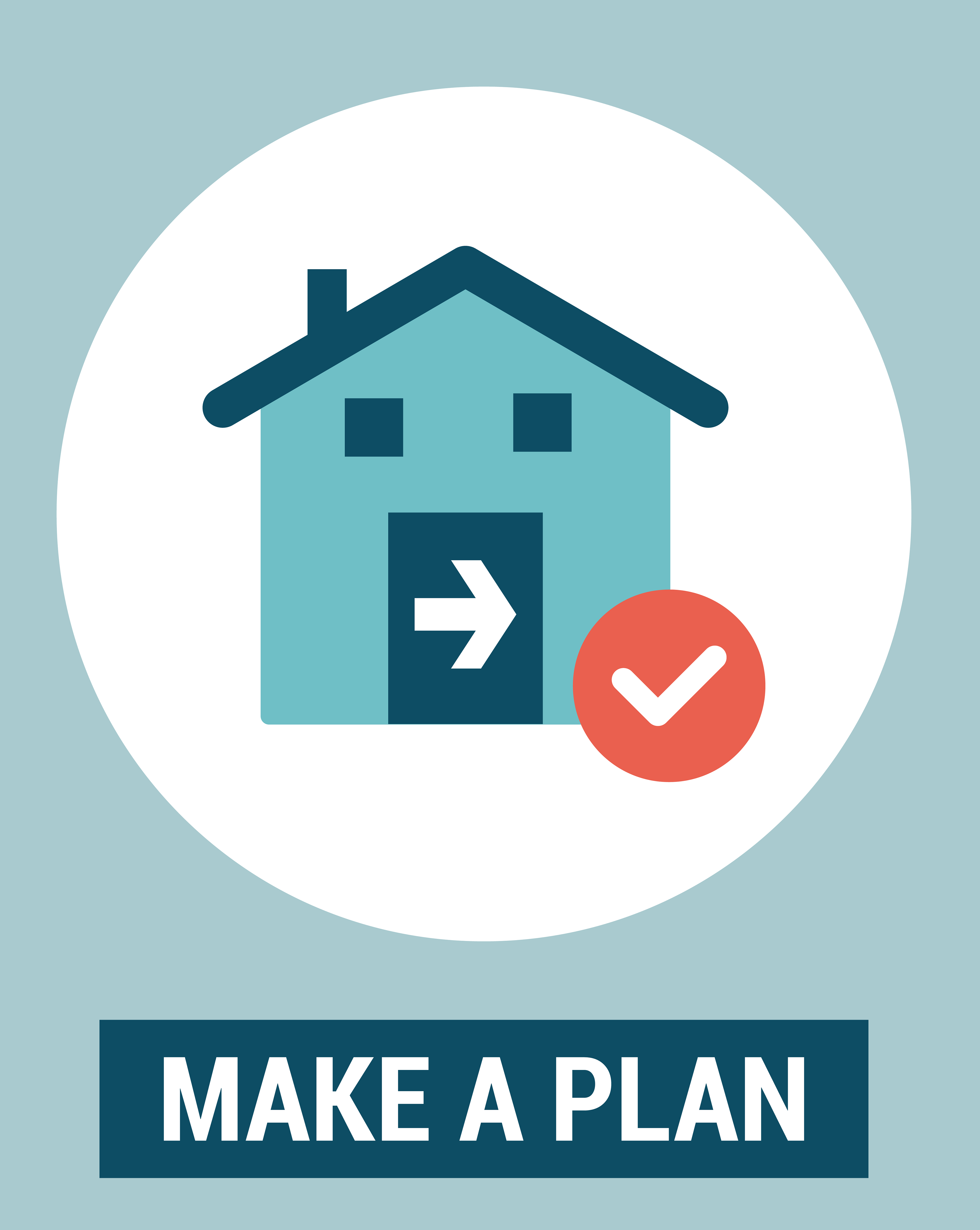 Pattonville is committed to keeping students and staff safe and to providing factual and timely information in the event of an emergency. The district uses a number of methods to provide important information to Pattonville families about emergencies or major school events. Depending on the situation, Pattonville may use an automated messaging system (emails, texts and/or phone calls), the district website, U.S. mail or the local media to keep families informed of important information. Pattonville will use the contact information it has on file in its student information system when communicating with parents. Parents/families should be prepared by taking the following steps:
Provide your child's school office with your most current phone numbers (home, work and cell) and email addresses when enrolling your child. If your information changes, please make sure you immediately update your contact information with your child's schools.   

Ensure the information for your emergency contacts is accurate and current, including who is authorized to pick up your child. 

Have an early dismissal plan and make sure your child is aware of it, including where they will go, who will be waiting for them at the bus stop, etc. Make sure emergency backup contacts know their role and are authorized to pick up your child on your emergency contact information.

Understand Pattonville's safety protocols and responses in the event of an emergency and talk with your children about the importance of following procedures.

Emphasize with your child that cell phones should not be used during an emergency unless directed to do so by a teacher or adult. Sound, vibration or conversation could put your student in danger, and students need to focus on following the instructions of the adults working to keep them safe at school.
What to expect if an emergency occurs
Each school in Pattonville has a customized emergency response plan that is updated annually and guides its response to emergency situations. Pattonville will use its emergency plans to respond to incidents and keep students and staff safe. The district will work with first responders, as appropriate, to support their emergency response operations. Families can also expect:
Pattonville will keep families informed about the situation with as much information as possible at the time. Not all information on a given emergency or incident will be available immediately. It may take time to investigate or gather details about a crisis. In addition, some information may not be possible to share due to federal laws protecting student and staff privacy. 

Pattonville will use its automated messaging system (email, text and/or phone call) to keep families informed. Please rely on these official communications for reliable, verified information on any situation.

In an emergency, phones are needed to manage the situation and lines must remain open. Please refrain from calling your child's school or the district offices and wait for official information from the district. In addition, calling your child could put students and employees at risk in an intruder situation if your child did not have time to turn down their ringtone. 

Parents/families will not be allowed on campus during an emergency. Emergency personnel responding to the situation need the area clear to do their job. After first responders determine a safe student release is possible, arrangements will be made to reunite students and their families (if needed). This may occur at a reunification site, the location of which will be shared with impacted families as soon as possible.

During an evacuation, students will not be allowed to take their property (backpack, etc.) with them in an emergency.

If an incident is non-threatening, parents can generally expect to be notified by the end of the day by email about the incident.
During the emergency
In a school emergency, a parent's first instinct is to call the school or rush to the campus to pick up their child. The truth is, this only complicates matters from a safety and security standpoint. The most important actions parents can take during an emergency are to remain calm and wait for information or instructions from the school or school district. Please help us in our emergency response by following these guidelines:
Do NOT call or rush to your child's school. Phone lines and staff are needed for emergency response efforts. Additional traffic near the school site can also impede emergency vehicles or otherwise disrupt emergency response procedures. Trust that the school is FIRST doing everything necessary to protect students, and will communicate with you as soon as school officials are able.

Do NOT phone your child. Staff and students are discouraged from using cell phone communication for safety reasons. Calling your child could put students and staff in danger during an intruder situation.

Keep your phone close and rely on communications and updates from the school, the school district or local first responders. If necessary, local news outlets will be contacted and asked to help broadcast important information.

Please avoid speculating about emergency situations on social media, as this can cause more panic and disruption. Avoid sharing rumors or information that does not come from the school, school district or first responders.

Remain calm and listen for information from the school, school district or first responders on reuniting with your child (if needed).
Reuniting with your child
When it is safe to do so, you will be directed to a specific location (reunification site) to pick up your child. You must bring photo identification.

Students will only be released to a parent/guardian and/or other adult listed as an emergency contact with authorization to pick up your child. The individual picking up the student will be asked to complete a Student Release Form (available on-site). This procedure is designed for your child's protection and for your peace of mind.

Please be aware that reunification can be time consuming, and we ask for and appreciate your patience.

It is important to remain calm as children are greatly influenced by their family's sense of well-being, and anything that families can do to reassure students is helpful. At the same time, families need to be compassionate listeners when their children speak of the crisis. Seek help from the school district or community resources if you/your child have any concerns.
Talking with your child about the crisis
Children take their cue on how to respond and react to emergency situations from their parents or other trusted adults and friends. It's important to model calm and reassure your child. Following an emergency, consider taking these action steps to help support your child:
Listen to and acknowledge your child's concerns.

Provide reassurance that your child is safe.

Assure your child that additional prevention efforts are being put in place.

Remind students that schools are safe places. School staff work with local police, fire departments and medical professionals to keep them safe.

Encourage your child to tell an adult they trust if they see or hear something that makes them feel uncomfortable, nervous or frightened.

It is often helpful to limit the student's exposure to the media and/or social media.

Try to stay calm and answer questions the best you can. 

When something upsets a child, sticking to a routine and doing activities they enjoy can be helpful. 

Provide your child with an opportunity to do something positive for their school community or to support others. Often, this can help with a child's mental well-being.

School counselors and social workers are available to support your child. Reach out if you need help or concerns persist.
Age-appropriate tips about talking to your child about a tragedy or other crises are available from the American Academy of Pediatrics.
Recovery and support after a crisis 
Pattonville's goal after a crisis situation is to return to a sense of normalcy for our students as soon as possible. Depending on the situation, Pattonville will:
Provide extra onsite counseling support for affected students and staff.

Increase security measures at sensitive locations.

Debrief with staff and first responders to evaluate crisis response.

Pursue other ways to prevent a crisis from recurring.

Keep parents and staff informed of developments.
After an immediate crisis situation is resolved, parents and families may reach out to their schools if their child needs any additional support or if they have questions. 
Prevention and training 
In addition to proactive planning and drills to address different emergencies, Pattonville takes a number of steps to prevent crisis situations, promote the health and well-being of students and keep our schools safe.
Safety planning and programming
Each school updates their emergency response guide annually with the support of local law enforcement.

The district evaluates its district safety plan annually and presents it to the Board of Education for review.

Pattonville has been implementing recommendations from a district-wide safety audit in 2018, including a number of facility improvements.

Students and staff are trained annually on drills for earthquakes, fires, intruders and tornadoes. 

Staff annually review behavior expectations and consequences with students as outlined in the

district's behavior guides

.

School resource officers (SROs) are employed at the district's middle and high schools to help build and maintain relationships between police, students, families, staff and administrators while keeping Pattonville schools safe and secure. 

Pattonville partners with local police departments to offer the D.A.R.E. (Drug Abuse Resistance Education) program for students in fifth grade across the district. Students learn how to resist peer pressure and make healthy choices through this year-long program.

The district has established a

tip line

where safety concerns can be reported to school officials.
Social-Emotional and Mental Health Support
Pattonville's social-emotional learning (SEL) curriculum for preschool through 12th grades supports the development of the whole child. SEL is the process through which children and adults acquire and effectively apply the knowledge, attitudes and skills necessary to understand and manage emotions; set and achieve positive goals; feel and show empathy for others; establish and maintain positive relationships; and make responsible decisions. In addition, the district educates students on topics such as conflict resolution, anger management, anti-bullying and other responsible behavior practices. 

A district-level social-emotional support team works to improve SEL and support for students and families across the district. A staff member from each school serves on the team. In addition, Pattonville was able to hire additional staff to support students' social-emotional needs in the schools, using a $450,000 grant from the Bridgeton Landfill Community Project Fund, a component fund of the St. Louis Community Foundation. 

Counselors at each school are equipped to support students' well-being, and staff is trained in areas such as suicide and bullying awareness, prevention and response. Social workers in the district also support student needs and family stability.

Staff are trained on trauma-informed care, including what trauma is; how to recognize the impact of stress and trauma on the school community; and how best to support families and students experiencing trauma. The school district partners with Alive and Well St. Louis to provide support for schools to develop and implement practices that support students exposed to trauma and the staff interacting with them.  

Pattonville schools use positive behavior programs that teach and reinforce behavior expectations in order to improve student behavior, maximize instructional time and increase student engagement. The programs create safer and more effective schools by structuring the learning environment to support the academic and social success of all students. The programs focus on encouraging positive student behavior, preventing disruptive behavior and tailoring supports to individual student needs. 

Pattonville partners with outside agencies to provide counseling support, training and resources to students and families. For example, Youth in Need provides school-based therapeutic services with therapists supporting students in the majority of Pattonville schools.  

Pattonville partners with NCADA (National Council on Alcoholism and Drug Abuse) to provide lessons to fourth through eighth graders to promote positive, healthy and drug-free lifestyles. 

A district cultural proficiency committee works to embed culturally proficient practices into all aspects of the district's work in order to build relationships and an understanding of socioeconomic, cultural and ethnic differences among students and staff. Cultural proficiency refers to the policies, practices and values of an organization that enable staff to engage effectively with people and groups who are different from them. Pattonville staff are trained on cultural proficiency and training is included as part of the orientation all new teachers receive before beginning work in Pattonville. 

Pattonville is implementing restorative practices in preschool through 12th grade to support a positive school climate and student responsibility. Restorative practices are sustainable, equitable and respectful alternatives to traditional disciplinary responses to student misbehavior. Pattonville is also developing and implementing district and building plans that systematically address areas of disproportionality in discipline data.

Pattonville has developed a proactive, intervention-driven system to identify and support students in the Pattonville middle school and high school alternative education programs. In addition, an early warning system is in place to proactively identify students for more intensive levels of interventions.

The Pattonville Community Action Team (PCAT) is a partnership between Pattonville schools and community organizations, including state and local government, religious organizations, local charities and more. The group's common focus is to support students and their families by working together to develop or connect them to needed services. PCAT has assembled resources available to local families on its

Community Services for Families and Children website

. The team meets regularly to address issues such as food accessibility, mental health services, family safety and financial stability for Pattonville students and families.
Resources
Pattonville community resource page
Pattonville Wellness Center (online resources)
Child safety and injury prevention