Each month during the school year, the Pattonville Board of Education honors students, staff and volunteers who have gained recognition outside of the district. Students and staff from Bridgeway and Rose Acres elementary schools, Pattonville Heights Middle School and Pattonville High School were recognized in April.
Bridgeway Elementary School
Coder Games honor
Fifth-grader Jack Fernandez and his teammate placed first in Missouri and 19th in the nation in the Scratch category of The Coder Games. The competition was a coding challenge sponsored by The Coder School, during which 40 schools with multiple teams from across the U.S. participated in two categories of programming language: Scratch and Typed. Open to students ages 7 through 18, The Coder School teaches programming languages.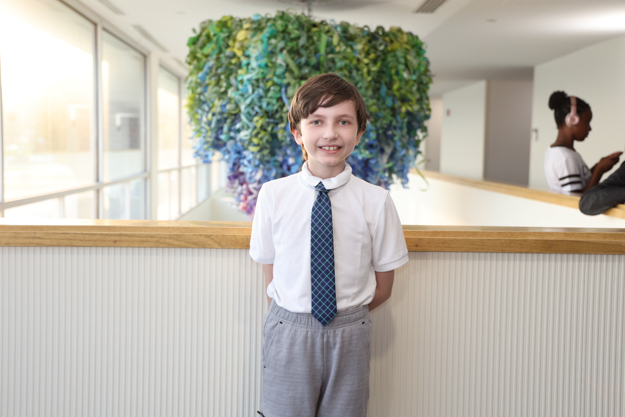 Shown is Jack Fernandez, a first grader at Bridgeway Elementary School.
Rose Acres Elementary School
Leader in Me international contest
Levi Dukes, a third grade student in the PEGS program, was selected as a finalist in the the Franklin Covey Leader in Me International Student Speech Contest in the individual category. His was the only awarded speech in the category. The prompt was "how do you use your voice to positively impact yourself and your community?" Dukes' speech was titled "Advocating for Gifted."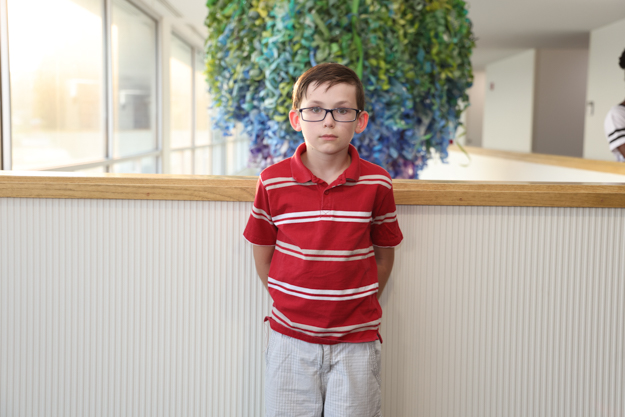 Levi Dukes earned recognition in a speech contest.
National handwriting contest
Samuel Guthrie, William Purnell and Evie Yakel, students in the PEGS program, were selected as state grade-level winners in the Zane-Bloser National Handwriting Contest and will advance to the national championships. The contest is open to students in kindergarten through eighth grade and celebrates cursive and print handwriting. Students were judged according to the Zaner-Bloser Keys to Legibility: shape, size, spacing and slant. The PEGS students all participated in the cursive competition for students in grades 3-8. Robin Chang and Tracey Robinson are their PEGS teachers.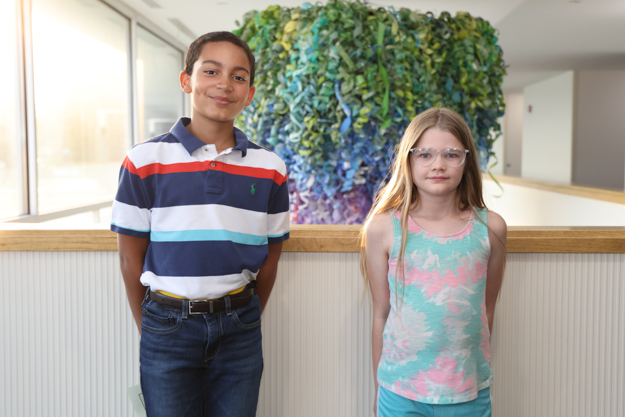 William Purnell, left, and Evie Yakel were among those honored in a handwriting contest.
Pattonville Heights Middle School
Poetry selected for publication
Fourteen Heights students had poems selected for publication in "Empowered - We've Got the Power," part of the Young Writers USA poetry contest. They are Carmen Bailey, Elliott Bland, Bresslin Castro Chavez, Deja Dunn, Kaylee Dyer, Fernanda Flores Rico, Shiloh Gadson, Blake Griffin, Jocelyn Harris, Taylor Hill, Junia Lacoss-Arnold, Giovanni Ramierez Montoya, Tailyn Seddens and Kaitlyn Turner. Tara Jones is their teacher. The contest is designed to help students find their voice and express themselves.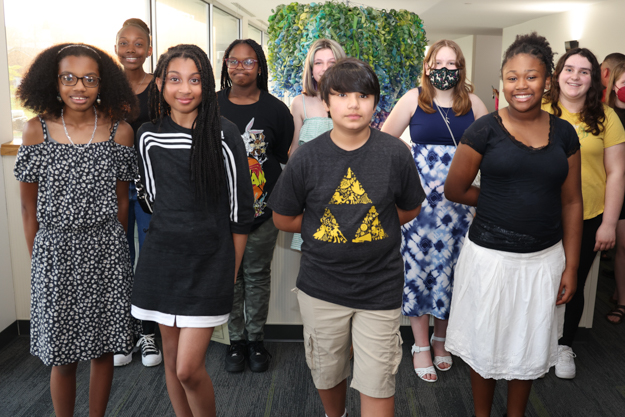 Students who had poetry selected for publication included from left, front row, Carmen Bailey, Shiloh Gadson, Giovanni Ramirez Montoya and Jocelyn Harris; and back row, Blake Griffin, Tailyn Seddens, Taylor Hill, Junia Lacoss-Arnold and Kaitlyn Turner.
Pattonville High School
Washington University College Prep 
Freshman Israela Agnram was selected to participate in Washington University's College Prep Program. The program is a no-cost, three-year immersive learning experience that prepares first-generation college students for college life and beyond. Participation includes year-round academic and enrichment support that combines college preparation workshops, undergraduate coursework for credit and activities centered on personal awareness and development. 
Rosemary Zander Award
Senior Brady Schnable was selected as a recipient of the Rosemary Zander Award sponsored by the Special School District (SSD). The award recognizes the success of students who receive services from SSD in areas including academics, arts, athletics, employment and community service. 
St. Louis Public Radio photo contest
Sophomore Mekhi Brown and senior Somo Dedkhad received honorable mention in the portrait category in the St. Louis Public Radio Teen Photo Contest. The contest invites high school-aged students to showcase their talent by documenting their world through photography. Both students' images will be featured in a gallery at the University of Missouri-St. Louis Grand Center starting May 12. The contest received 202 student entries from 48 schools across the St. Louis and Rolla regions. 
Young Artists' Showcase
Artwork from five Pattonville students was selected for the Emerson's Young Artists' Showcase and displayed at  the St. Louis Artists' Guild. They are Somo Dedkhad, Anna Kasprzyk, Ace Mansdoerfer, Grace Radican and Analiese Smith. They are taught by Beth Kathriner. 
Anna Kasprzyk was among the students with artwork selected for exhibition at the St. Louis Artists' Guild.
HOSA state honors, international qualifiers
Seven students competed at the state HOSA competition for future health professionals. The following students placed at state and qualified for the international competition: Keilah Wilkes who placed second in pharmacology knowledge test at state and Loudin Cato and Dominique Bradshaw who placed second at state in medical innovation. Sydney Suvansri attended the state competition and placed fifth in the pathophysiology knowledge test. The following students also qualified for the state tournament: Ponon Masokano in prepared speaking; Abigail Mesfin in research poster; and Lauren Marsala in extemporaneous writing. They are coached by teacher Jamie Jobe.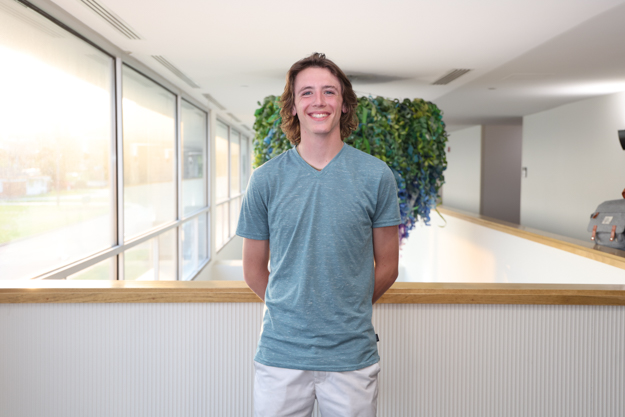 Loudin Cato was among the students who qualified for the international HOSA competition.
WWT STEM forum
A group of Pattonville High School computer science students won the 2022 World Wide Technology STEM Student Forum claiming a $10,000 first place prize for creating a tech project that promotes students' sense of belonging by helping staff members learn more about their students, including how to say their names correctly. Students on the team are Justin Alvey, Helen Bae, Dylan Bolter, Jack Caesar, Jayne Herter, Kyle Huynh, Samuel Kadima, David Luebbers and Nicholas Toler. They are taught by Jeremiah Simmons. The win marks the second time Pattonville High School has won the Forum. There were about 20 teams in this year's competition and each team was paired with a WWT employee to help mentor them through the process. After submitting a project video, five schools reached the finals and presented their idea at WWT's global headquarters in St. Louis on April 9.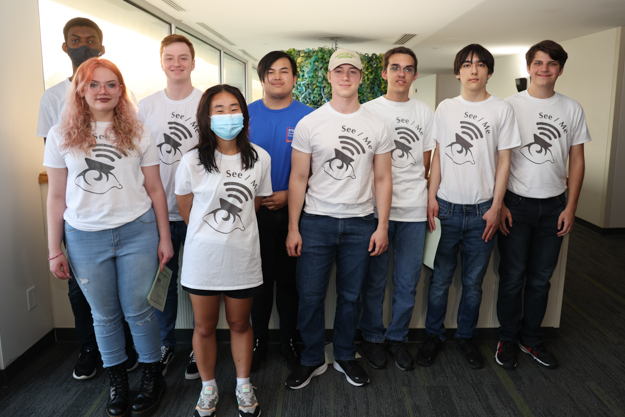 Students on the team who won the World Wide Technology Student Forum include, from left, front row, Jayne Herter and Helen Bae; and back row, Samuel Kadima, Dylan Bolter, Kyle Huynh, David Luebbers, Jack Caesar, Justin Alvey and Nicholas Toler.
Winter Guard championships
The Pattonville winter guard team competed in the 2022 Color Guard World Championships in Dayton, Ohio. They performed their routine titled "Other Side" in the Scholastic A division. By qualifying for the event, Pattonville has one of the top 100 winter guard programs in the country. They advanced to the world championships after placing ninth at the Winter Guard International Kansas City Regional held at Blue Springs High School. Schools from several states attended the competition and all units were ranked and rated on equipment skills, dance, performance qualities and design. The Pirates advanced to the finals after placing fourth in their preliminary round. Members of the winter guard were Kasimira Braggs, Lillian Cave, Gavin Clay, Ash Lee Cleary Wichers, Dylan Fontana, Alana Franklin, Jenna Hall, Cecilia Hernandez, Lauren Hunt, Kyla Kobielusz, Aiden Lindsay, Camille Lofland, Amelia Lorino, Sara Lumsden, Falisha Markland, Patricia Menga, Imani Miller, Jamie Newell, Alex Nunn, Daonne Wallace, Tommy Wilson and Issabelle Winkler. Charlie Bourrage directs the guard.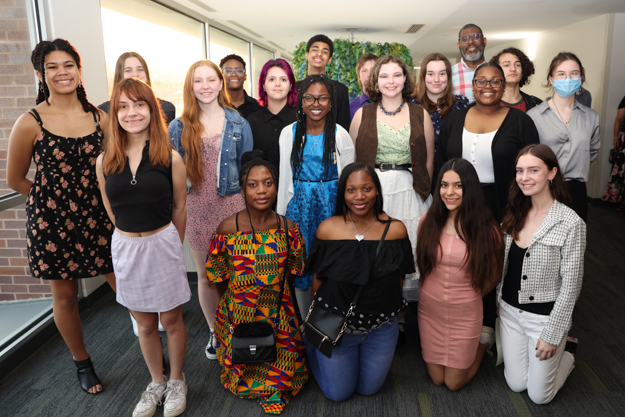 Winter Guard honorees include, from left, front row kneeling, Patricia Menga, Imani Miller, Cecilia Hernandez and Jenna Hall; middle row, Falisha Markland, Ash Lee Cleary Wichers, Camille Lofland, Kasimira Braggs, Dylan Fontana, Alana Franklin and Lauren Hunt; and back row, Issabelle Winkler, Alex Nunn and Amelia Lorino.
Newspaper First Class honor
The Pattonville High School journalism staff earned a First Class honor rating in the National Scholastic Press Association annual critique of its online edition. The Pirate Press and PattonvilleTODAY editors-in-chief are juniors Ava Hooper Bearskin and Matthew Jacobi. Additional editors are Elise Banks, Peyton Gregory, Christian Movick, Katie Ridings, Mackenzie Rosenthal, Bailey Shields and Rebecca Simpkins. Staff members are Abigail Evers, Hayden Gust, Lilyanna Norman and Jaida Phillips. As part of the critique process, all student media are scored in several categories including coverage, writing and design. The composite score from all sections awards an honor rating ranging from Third Class to All-American. The Pattonville High School journalism teacher is Anne Boyd.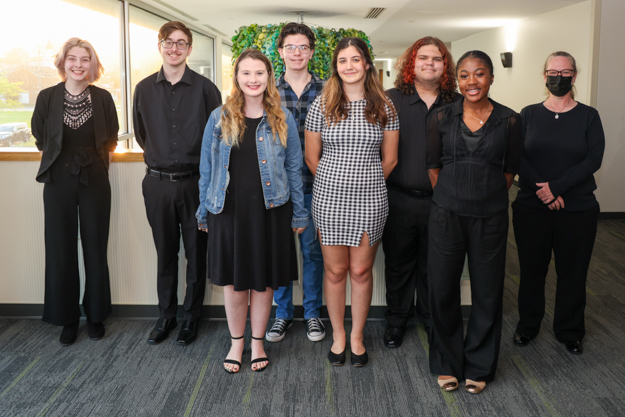 Honored newspaper students are shown with adviser Anne Boyd, standing right. They are, from left, Abigail Evers, Matthew Jacobi, Mackenzie Rosenthal, Christian Movick, Ava Hooper Bearskin, Hayden Gust and Elise Banks.
Yearbook First Class honor
The 2021 Echo yearbook at Pattonville High School earned a First Class rating from the National Scholastic Press Association. The yearbook staff include Mackenzie Boone, Jaena Daniels, Hannah Huddleston, Kadie Murphy, Camryn Peebles, who was part of the varsity drill team that placed first in the country in medium varsity hip hop at the NDA National Championship, Katie Ridings, Isabella Venezia and Sean Wallis.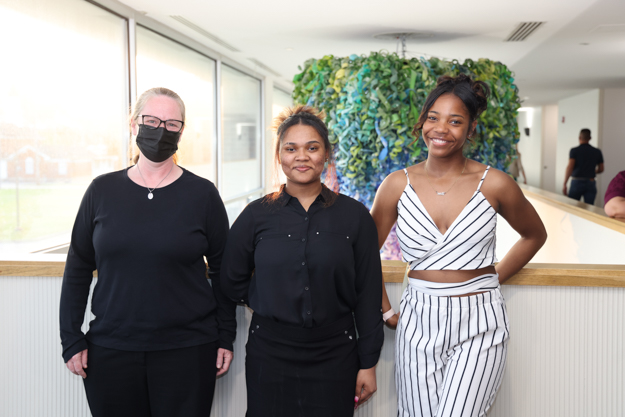 Yearbook adviser Anne Boyd, left, is shown with staff members Jaena Daniels and Camryn Peebles.
Drill team national championship
The Pattonville varsity drill team placed first in the country at the National Dance Association national championship in medium varsity hip hop. This is the fifth time in program history the team has won a national championship, the most in Missouri, and the first since 2000. Members of the varsity drill team are Kaycee Carman, Nicole Cobbs, Kaylee Cofer, Reilly Edmonds, Riley Johnston, Camryn Peebles, Zaria Purvey, India Reed, Katie Ridings, Laura Rockwell, Isabelle Tucker and Kamauri Younge. The team is coached by Kristin Riggs, assistant coach Lindsey Schaefer and with the help of Grace Burgos, Katie Funderburk and Kate Greenwell.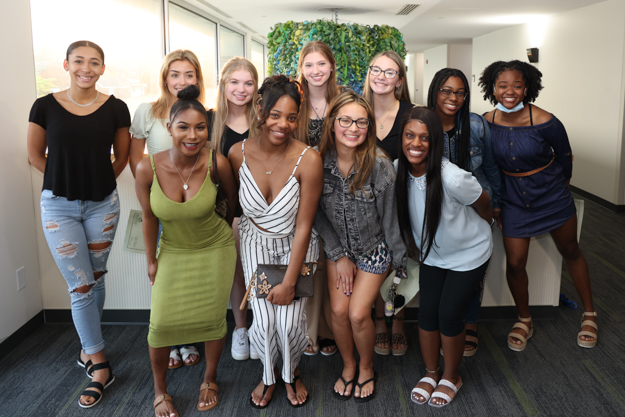 Members of the champion drill team at Pattonville High School include, from left, front row, Kamauri Younge, Camryn Peebles, Isabelle Tucker and India Reed; and back row, Laura Rockwell, Riley Johnston, Kaycee Carman, Reilly Edmonds, Kaylee Cofer, Nicole Cobbs and Zaria Purvey.